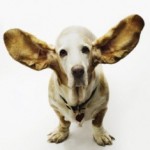 No, this is not another stupid human trick.
In a world brimming with experts, customers want their voices heard. True experts share a passion for their work. That passion drives much of their success.
In their quest to find the perfect solution, experts sometime forget to listen to their customers.
A key to success in business writing is delivering what the customer wants. To accomplish that –
Write with your ears.
A Study in Business Listening
In a past life, I worked for an international consulting firm. It was there where I met a highly effective client manager.
I don't know if it's my baby boomer brain or
If I lost his listening tip for remembering names
Sadly, I cannot remember his name
I'll call him John
Client managers had to be a "jack of all trades." They had to know enough about each service area the firm provided and determine the best fit for their clients.
John was a master at this. His listening skills were so honed; clients and prospects often expressed appreciation for someone who really listened.
Imagine what those listening skills did for building relationships.
John's reputation spread and soon the firm asked him to teach his technique.
One training session with John – Free
John's take-aways – Priceless
The following is probably a mix of some of John and some of me.
Tips for Better Business Listening
1. Know the point
Effective business listeners think about the point of a discussion before they engage in conversation.
The point may be –
Sharing information
Receiving feedback or
Strengthening relationships
Knowing the point provides a purpose for planning your discussion.
2. Plan your discussion
Most business professionals create an agenda for business meetings.
It brings clarity
It adds focus to the discussion
Whether it's a phone conversation or a face-to-face meeting –
Plan your discussion with the questions to ask.
3. Ask questions
Few techniques demonstrate interest better than asking questions.
It signals to your customers that you care about what they think
It provides you with the information you need to deliver your best
Questions clarify points, direct the discussion and stimulate thought.
4. Stay focused
Multi-tasking has its place. It's not during a business discussion.
I am sure you experienced the certain knowledge that someone was not "all there" during a discussion.
Perhaps it was the clicking of the keyboard on a call
Someone on a Blackberry during a meeting
If you initiated the discussion, remember how you felt?
Stay in the discussion at all times.
5. Recap often
This technique serves many purposes.
It shows your customer you are listening
Identifies what's important
It clarifies misunderstandings
Communicate a sincere desire to "get it right" instead of a practiced technique showing "how good you are."
Before beginning a business writing assignment, I recap phone or meeting discussions in writing.
Recapping identifies key points and keeps everyone on the same page.
By using the above techniques, you are ready to write with your ears.
You listened to your customers
Made them feel good about themselves and
Good about your business
And, isn't that a great outcome?
What listening techniques do you use?
=====================
Helping you Keep it simple, clear & uniquely yours – contact me for help with your business writing needs.
====================